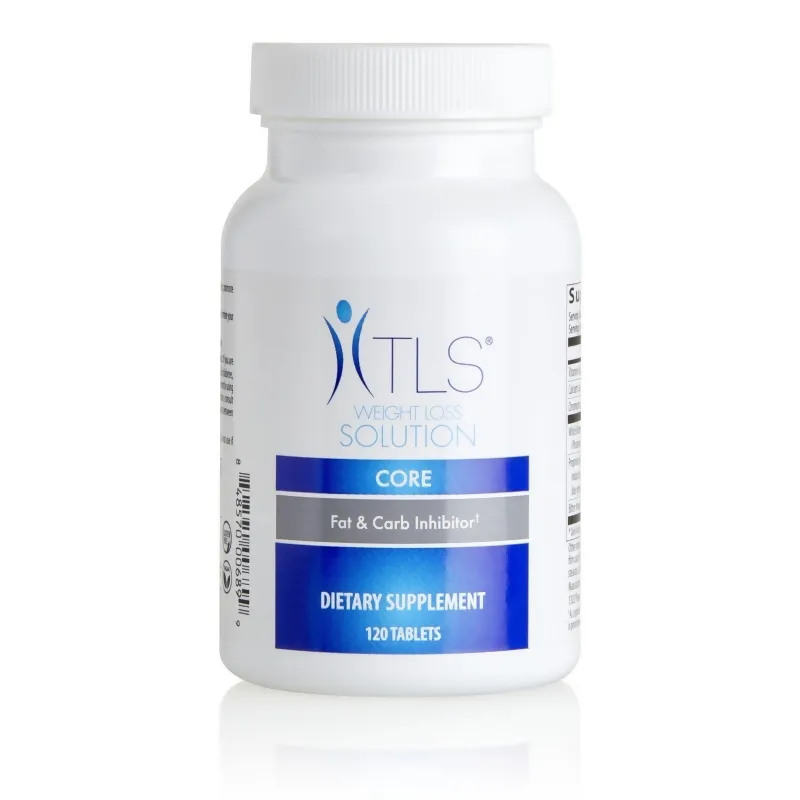 $75.95 USD
Single Bottle (60 Servings)
Earn $1.52 cash back!

Outside the United States:

Benefits
Supports leptin sensitivity which may help to manage hunger and stimulate lipolysis
May help suppress appetite by promoting a feeling of fullness
Helps encourage the individual to stop eating by promoting the feeling of fullness
May help to reduce fat stores in the body
Promotes reduction in body mass index (BMI)
Helps promote weight loss
Inhibits the amylase enzyme and slows the absorption of carbohydrates into the bloodstream
Helps inhibit carbohydrate absorption in the body
Helps maintain normal blood sugar levels
Promotes normal insulin activity
Helps maintain normal cholesterol levels
Why Choose TLS CORE Fat & Carb Inhibitor?
Do you feel like you're always hungry and never full? Have you tried other products on the market but still struggle with your weight? If so, you may be dealing with leptin sensitivity. Leptin is the hormone that, in essence, tells our brain when to eat, how much to eat and – most importantly – when to stop eating. Leptin is secreted by fat; the more fat, the more leptin. However, the people who could benefit most from leptin's effects are those who need it most.
While overweight people produce much higher levels of leptin than thin and normal-weight individuals, they are somehow resistant to its effects. For example, when serial dieters – those who are continually losing and gaining weight – lose fat through diet and exercise, the brain thinks it is starving and tells the body to hold on to its fat stores. This is when the weight usually roars back. That's because the body will fight harder against losing fat than it will against gaining fat. That's why most people find it a whole lot easier to get fat than they do to get lean. As someone gains weight, the body tries to maintain the status quo, but the baseline has moved higher. After the body adjusts to a heavier, new status quo, it's hard to slim down again.
TLS CORE Fat & Carb Inhibitor was created to deal specifically with the weight management issues related to leptin sensitivity. TLS CORE Fat & Carb Inhibitor, one of the few products on the market to deal with this issue, works in three specific ways. First, it may help with appetite suppression with the help of LeptiCore®, a clinically-proven, patent-pending all-natural ingredient designed specifically to promote healthy weight management.*
Next, TLS CORE Fat & Carb Inhibitor inhibits the amount of starchy carbohydrates being absorbed by the body. These carbohydrates can elevate blood sugar levels, increasing insulin. This can cause the body to store additional fat, triggering leptin, causing you to eat and over-consume. Finally, TLS CORE Fat & Carb Inhibitor helps to stop the body from converting excess carbohydrates into fat.*
By supporting a normal response to leptin, helping to inhibit the body's absorption of carbohydrates you eat, and reducing fat stores in the body, you can finally get the support you need to keep off the weight. TLS CORE Fat & Carb Inhibitor, in combination with the TLS® Weight Loss Solution, will help you lose weight and feel great!*
Customer Ratings
Ingredients
Chromium (100 mcg/serving; 200 mcg/day)
Dietary chromium is an essential trace mineral assisting in the metabolism and use of carbohydrates and fat. Known as the glucose tolerance factor, chromium promotes the delivery of blood sugar to cells thereby helping to maintain normal insulin activity. Chromium also helps maintain healthy levels of cholesterol and other blood lipids. Due to the role it plays in metabolism, chromium is commonly added to natural weight-loss products.*
Phaseolus vulgaris (White Kidney Bean Extract) (445 mg/serving; 890 mg/day)
Research has shown that supplementation with white kidney bean extract promoted a greater reduction in body weight, body mass index (BMI) and fat mass. Scientifically known as Phaseolus vulgaris, white kidney bean is classified as an amylase inhibitor. Amylase is an enzyme that breaks down starchy carbohydrates into more easily absorbed sugars such as glucose. As individuals age, the ability to use carbohydrates from the diet slows down, causing increased glucose in the blood stream leading to excess storage in the form of fat. Amylase plays a role in the digestion of carbohydrates and subsequently in the absorption of unwanted calories. Supplementation with white kidney bean extract allows certain carbohydrates to pass through the body undigested, stopping them from eventually being converted into fat. This bypass of undigested carbohydrates may reduce and normalize levels of simple sugars (glucose) in the blood.*
LeptiCore® (300 mg/serving; 600 mg/day)
LeptiCore has been clinically proven to help reduce body weight, stored body fat, and waist and hip size. LeptiCore – a proprietary, safe and natural complex of plant-based polysaccharides and esterified fatty acids – has demonstrated the ability to enhance weight loss. LeptiCore targets critical mechanisms involved with body fat storage. LeptiCore supports the normal activity of leptin, a hormone involved with hunger signals. With LeptiCore, leptin sensitivity is supported. LeptiCore supports the ability of leptin to enter the brain and signal the stomach that it is full. Supporting leptin sensitivity has the potential to increase satiety, decrease appetite, promote blood sugar balance, and increase thermogenesis – a significant component of the metabolic rate.*
Bitter melon (Momordica charantia) fruit extract (150 mg/serving ; 300 mg/day)
Bitter melon (Momordica charantia)grows in tropical areas and is cultivated throughout South America as a food and for its health properties. It has been shown to have antioxidant properties, as well as a role in maintaining normal blood sugar levels. Charantin, one of several constituents in bitter melon, is believed to act as its primary mechanism to helping the body maintain normal blood sugar levels.*
Label Details
TLS Core
TLS® CORE is the core supplement for TLS Weight Loss Solution that helps promote weight loss and inhibit carbohydrate absorption.†
Directions for use: Take 2 tablets twice daily, 30-45 minutes before your two largest meals. Do not exceed 4 tablets daily.
This product is to be used in conjunction with TLS Weight Loss Solution.
WARNING: If you are currently using prescription drugs for diabetes or have an ongoing medical condition, consult your healthcare provider before using this product. If you are pre-diabetic or diabetic, monitor blood glucose levels closely when using this product. Wait at least 4 hours between taking TLS CORE and any penicillin family antibiotics. Women who are pregnant or breastfeeding should not use this product.
KEEP OUT OF THE REACH OF CHILDREN. Store in a cool, dry place. Do not use if safety seal is broken or missing.
Supplement Facts

Serving Size: 2 tablets

Servings per Packet: 60

Amount Per Serving

% Daily Value

Vitamin A (Beta-Carotene from Lepticore®‡)

1,500 mcg RAC

167%

Calcium (Dicalcium Phosphate)

200 mcg

15%

Chromium (Picolinate)

100 mcg

268%

White Kidney Bean (Phaseolus vulgaris) Extract (8:1)

445 mg

*

Lepticore®‡ Proprietary Blend:

Gum arabic (Acacia arabica), guar gum (Cyamopsis tetragonoloba), locust bean gum (Ceratonia siliqua), pomegranate (Punica granatum) extract, blue green algae

(Aphanizomenon flos-aquae), beta-carotene

300 mg

*

Bitter Melon (Momordica charantia) Fruit Extract (4:1)

150 mg

* Percent Daily Value is based on a 2,000-calorie diet.

** Daily Value not established.
Other ingredients: Microcrystalline cellulose, croscarmellose sodium, stearic acid, film coat (hypromellose, polyethylene glycol, hydroxypropyl cellulose), magnesium stearate and silica.
†These statements have not been evaluated by the Food and Drug Administration. This product is not intended to diagnose, treat, cure or prevent any disease.
TLS Weight Loss Solution
TLS Weight Loss Solution is all about what works for you. Life isn't rigid or predictable, and your weight loss solution shouldn't be either. Our comprehensive educational program is custom-made to fit you and your unique lifestyle. Flexibility is key to TLS, which is why anyone can Live the Lifestyle.
What is TLS Weight Loss Solution?
FAQs
In considering the TLS Weight Loss Solution®, how important is calorie counting?
The TLS Weight Loss Solution is based on low-glycemic eating and portion control, not calorie counting. Therefore, each person regardless of size can follow the system to achieve optimal results. TLS Weight Loss Solution is based around eating the right kinds of foods to help nourish and fill your body. Counting calories is not a priority when you follow the TLS Weight Loss Solution.*
Are fat-free and low fat foods the solution to being overweight?
These foods can definitely play a part in an overall effort to lose weight, but consuming them will not undo a myriad of other dietary downfalls or make up for a lack of physical activity. Successful weight loss and weight maintenance depends on achieving the right mix of diet and physical activity. To lose weight, you need to take in less energy (eat fewer calories) than you expend (or work off) through physical activity. Combining dietary modifications to reduce calories and fat with a consistent physical activity plan is the most effective way to lose weight. Also, focusing on eating a wide variety of lower-GI foods is a great way to appease the senses as well as gain a greater range of vitamins and nutrients in the diet. When you consume an assortment of foods, eating healthier becomes easier and more gratifying. Fat-free and low fat does not always mean low calorie, and these foods are usually not very satisfying.
What are carbohydrates?
Carbohydrates, protein and fat are the body's three main sources of fuel. All three of these sources contain calories; carbs and proteins supply four calories per gram, and fats supply nine calories per gram. When the body burns a calorie – whether from a carbohydrate, a protein or a fat – energy is released. Carbohydrates, however, have the distinction of being the body's predominant and most efficient source of energy.
What roles do carbohydrates play in the body?
Different types of carbohydrates are processed differently by the body and, consequently, have different effects on blood glucose levels. The glycemic index, or GI, ranks carbohydrate-rich foods according to their effect on blood glucose levels. Carbohydrates provide the body with the fuel it needs for physical activity and proper organ function. The best sources of carbohydrates — fruits, vegetables and whole grains — deliver essential vitamins and minerals, fiber, and a host of important phytonutrients. The digestive system handles all carbohydrates in much the same way; it breaks them down (or tries to break them down which is the case for fiber) into single sugar molecules, since only single sugar molecules are small enough to cross into the bloodstream. It converts carbohydrates into glucose (also known as blood sugar) because cells are designed to use this as a universal energy source.
The glycemic index measures how fast and how high blood sugar levels rise after consuming foods that contain carbohydrates. White bread, for example, is a high glycemic index food and is converted almost immediately to glucose, causing blood sugar levels to spike rapidly. Brown rice, in contrast, has a low glycemic index and is digested more slowly, causing a steadier and overall lower change in blood sugar levels.
As I lose weight, will the elasticity in my skin adapt to the weight loss?
When you lose weight as body fat, you maintain the muscle and over time through exercise most people find that their excess skin will adapt to their new body and tighten up. It is important that you exercise to improve your muscle mass and tone and help target body-fat loss as well.
Do I have to exercise to see results?
As with most weight loss supplements, this product was designed to be taken in conjunction with a healthy diet and exercise. This is the best and proven way to lose weight. Exercise and healthy eating are essential for optimal results.
Are reduced-fat foods always low in fat?
These types of food are lower in fat than the original, but that does not necessarily mean they are low fat. To know the facts, read the nutrition label and compare the fat content of two similar products with the same serving size.
How are different carbohydrates metabolized in the body?
When a food containing complex carbohydrates – oatmeal, for instance – is eaten, its high fiber content prevents it from quickly leaving the stomach. This results in a feeling of fullness. The food then moves into the small intestine, where the two types of complex carbohydrates – starch and fiber – separate from each other. The starch portion slowly makes its way toward the villi, which are the fingerlike projections of the small intestine that absorb nutrients. By this time, the starch has been broken down into glucose and is ready to be transported to the blood. When the glucose enters the blood, your blood sugar level rises. This, in turn, causes the pancreas to secrete insulin, a hormone that allows glucose to be transported to the cells. When glucose enters the cells, some of it is immediately used as fuel, some is stored in the muscles and liver as reserve fuel, and any remaining glucose is transferred into fat. As glucose is distributed throughout the body, blood sugar levels begin to fall.
A very different scenario occurs when a food containing simple carbohydrates is consumed, such as a sugar-sweetened soft drink or a square of fudge. Because foods with simple sugars have little or no fiber to slow their movement through the stomach, it is rapidly transported to the small intestine. Once there, the starch is quickly absorbed into the bloodstream, causing a rapid surge of glucose into the bloodstream and resulting in a spike in your blood sugar level. Soon after, the pancreas, in response to the increase in blood sugar, releases insulin, which immediately begins the task of moving the glucose into cells, resulting in a drop in blood glucose levels.
How does TLS® CORE Fat & Carb Inhibitor support weight management?
In the weight loss game, starchy carbohydrates can really pack on the pounds. Starchy carbohydrates can also trigger leptin resistance. Starchy carbohydrates lead to higher blood sugar levels, increasing insulin causing the body to store fat.
When you work towards your weight loss and healthy lifestyle goals, TLS CORE Fat & Carb Inhibitor works as hard as you. TLS CORE Fat & Carb Inhibitor contains the active ingredient, white kidney bean extract. White kidney bean extract inhibits the enzymes that normally breakdown starch into glucose within the small intestine. White kidney bean extract uses a calculated approach to affect the utilization of carbohydrates once they enter the body. As a result, the absorption of glucose from carbohydrate-rich foods, such as bread, potatoes, rice and pasta is inhibited. This gives you an advantage by minimizing the effects of surplus carbohydrates that are waiting to be converted into fat within the body.*
TLS CORE Fat & Carb Inhibitor contains Bitter melon (Momordica charantia) fruit extract, a South American food medicine. Bitter melon is known for its antioxidant, antidiabetic, and immune-enhancing abilities. Preliminary research has also shown that bitter melon promotes improved glucose tolerance.
Are there any warnings/contraindications associated with this product?

If you are currently using prescription drugs for diabetes or have an ongoing medical condition, consult your healthcare provider before using this product. If you are pre-diabetic or diabetic, monitor blood glucose levels closely when using this product. Wait at least 4 hours between taking TLS CORE and any penicillin family antibiotics. Women who are pregnant or breastfeeding should not use this product.
---
Find Similar Products by:
* These statements have not been evaluated by the Food and Drug Administration.
* This product is not intended to diagnose, treat, cure or prevent any disease.
Shop Internationally