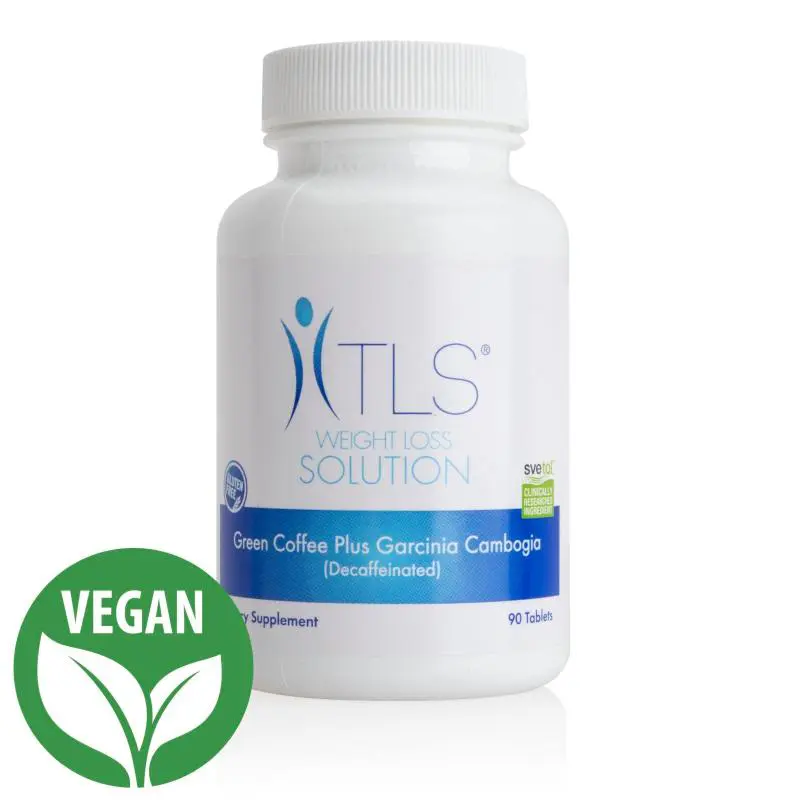 $42.95 USD
Single Bottle (90 Servings)
Earn $0.86 cash back!

Outside the United States:

Benefits
Clinically-tested green coffee extract
Unique profile of chlorogenic acids
Decaffeinated
Promotes/supports healthy weight loss
Helps facilitate the use of stored fat as a source of energy – accelerating fat burning in the body when used as part of the TLS® system
Helps maintain normal blood sugar levels
Helps support normal intestinal glucose absorption
Supports healthy liver glycogenolysis rate in the body, inducing the use of fat as a source of energy
Inhibits the conversion of sugar into fat
May help suppress appetite and promote a feeling of fullness
Promotes reduction in BMI
Helps reduce body fat
Supports a healthy lean mass to fat mass ratio
Promotes body fat loss while preserving muscle tissue
Lipolytic activity in adipocyte tissue (promotes the freeing of fatty acids and glycerol to support weight loss)
Supports/helps maintain healthy serotonin levels
Helps maintain normal blood pressure
Why Choose TLS Green Coffee Plus Garcinia Cambogia?
One of the best ways to burn fat and promote healthy weight loss is to maintain healthy blood sugar levels, and studies have shown that green coffee bean extract can not only help burn fat, but inhibits the conversion of excess sugars into fat in your body.* TLS Green Coffee Plus Garcinia Cambogia promotes weight loss by helping your body burn fat and preserving healthy, lean muscle mass.* The addition of Garcinia cambogia makes TLS Green Coffee Plus Garcinia cambogia a great complement to your low-glycemic diet, helping to maintain normal blood sugar levels while helping burn fat to get the body you want.*
Green Coffee Bean Extract and Garcinia Cambogia are two of the hottest ingredients for weight loss on the market right now. We have combined these two buzzworthy ingredients into one product: TLS® Green Coffee Plus Garcinia Cambogia. Not only do we use top-tier ingredients, the price of TLS® Green Coffee Plus Garcinia Cambogia is more competitive than many other products on the market. TLS® Green Coffee Plus Garcinia Cambogia helps your body use stored fat as a source of energy — accelerating fat burning and promoting healthy weight loss.*
Customer Ratings
Ingredients
Garcinia Cambogia (1500 mg, 60% HCA, daily)

Garcinia cambogia is a small fruit from southern India, which contains hydroxycitric acid (HCA). HCA is the active component found in this fruit. It works to inhibit ATP-citrate lyase, a key enzyme in the metabolic process. This enzyme is responsible for converting excess sugar into fat and facilitating the synthesis of fatty acids, cholesterol and triglycerides. When calorie intake exceeds the body's needs for energy, the excess glucose is converted into glycogen, also known as stored fat to be used for energy later. Weight gain occurs after the body's capacity for glycogen is reached. By inhibiting ATP-citrate lyase, HCA helps reduce sugar from being converted to fat, thus causing your body to burn stored fat for energy instead. Garcinia cambogia also works to promote weight loss by helping to maintain normal serotonin levels. Serotonin is a neurotransmitter in the brain very heavily involved in appetite control and emotional food cravings. HCA's role in promoting normal serotonin helps support your control of emotional eating behaviors, supporting your efforts to weight loss.*
†Svetol® is a registered trademark of Naturex, Inc.
Ingredients Label
(click image to expland)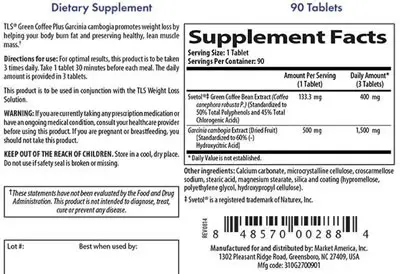 TLS Weight Loss Solution
TLS Weight Loss Solution is all about what works for you. Life isn't rigid or predictable, and your weight loss solution shouldn't be either. Our comprehensive educational program is custom-made to fit you and your unique lifestyle. Flexibility is key to TLS, which is why anyone can Live the Lifestyle.
What is TLS Weight Loss Solution?
FAQs
What is the serving size of TLS® Green Coffee Plus Garcinia Cambogia?
For optimal results, this product is to be taken 3 times daily. Take 1 tablet 30 minutes before each meal. The daily amount is provided in 3 tablets.
The product says it is made with coffee. If I am sensitive to caffeine can I take this?
You can absolutely still take this product if you are sensitive to caffeine.
Can I use TLS Green Coffee Plus Garcinia Cambogia with other TLS® supplements?
Yes. TLS Green Coffee Plus Garcinia Cambogia can be used in conjunction with TLS Thermochrome with Advantra Z®**, TLS CORE Fat & Carb Inhibitor, TLS ACTS Adrenal, Cortisol, Thyroid & Stress Support Formula, TLS Tonalin®*** CLA, and both the TLS Nutrition and Whey Protein shakes We also recommend the use of tlsSlim.com to build yourself a customized weight loss program including a low-glycemic diet and exercise routine to optimize your health and results.*
Are there any warnings/contraindications associated with this product?
If you are currently taking any prescription medication or have an ongoing medical condition, consult your healthcare provider before using this product. If you are pregnant or breastfeeding, you should not take this product.
**Advantra Z® is a registered trademark of Nutratech, Inc./ Shishin, LLC, licensor of U.S. Patents 6,224,873; 6,316,499; 6,340,481; 6,340,482; and Canadian Patent 2,248,854.
***Tonalin® CLA (conjugated linoleic acid) is an exclusively licensed product of BASF Personal Care and Nutrition GmbH.
---
Find Similar Products by:
* These statements have not been evaluated by the Food and Drug Administration.
* This product is not intended to diagnose, treat, cure or prevent any disease.
Shop Internationally