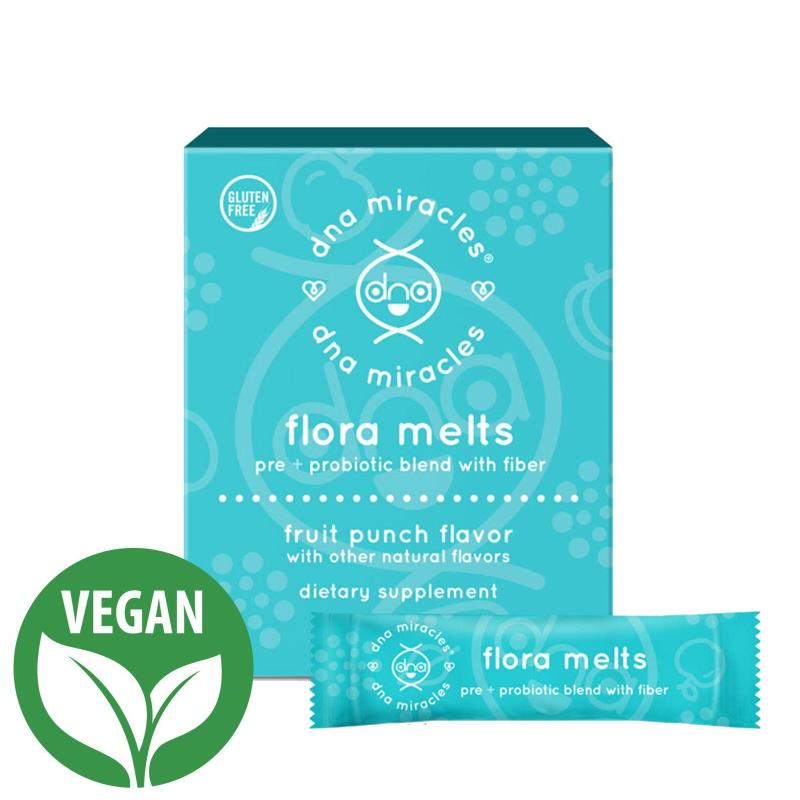 $29.95 USD
Earn $0.60 cash back!

Benefits
Supports a healthy microflora balance in the gastrointestinal tract
Supports immune, digestive and intestinal health
Promotes stomach comfort and bowel regularity
Supports healthy metabolism
May support healthy mineral absorption
Delicious, natural fruit flavor
No added sugar
Provides advantageous prebiotic and probiotic source
Provides 1.5 billion CFU from LactoSpore®†
†LactoSpore® is a registered trademark of Sabinsa Corporation.
Why Choose DNA Miracles Flora Melts?
DNA Miracles Flora Melts are a delicious dietary supplement for children, delivering probiotic and prebiotic support for digestive and immune health.* They provide a unique group of prebiotic functional starches paired with Lactospore®, a probiotic for optimal digestive and intestinal microflora health in children and adults.*
Each serving of Flora Melts features LactoSpore®†, a spore of the probiotic strain Bacillus coagulans, that provides strong immune and intestinal defense while surviving stomach acid and the harsh gastrointestinal environment. In addition, DNA Miracles Flora Melts contain one gram of soluble fiber and three different sources of prebiotics – a blend of Jerusalem artichoke, apple fiber and chicory root fiber – to promote optimal health. By offering three powerful, yet different prebiotic fibers, DNA Miracles Flora Melts also support healthy metabolism. *
Regular supplementation with a probiotic and prebiotic can support optimal gut, metabolic, immune, and overall health. ¥ So create a digestive health routine for you and your child – and make it fun with DNA Miracles! Enjoy Flora Melts as they magically dissolve on the tongue, or, simply mix our melt stick with food or beverage.
Healthy bellies make happy little miracles!
± synbiotic – a probiotic(s) and prebiotic(s) combined together
†LactoSpore® is a registered trademark of Sabinsa Corporation.


Ingredients
Bacillus coagulans (Lactospore®†): 1.5 billion CFU
Previously known as Lactobacillus sporogenes, Bacillus coagulans produces lactic acid, but it is not a lactic acid bacteria (i.e. lactobacillus). It is also a soil based organism. (SBO) B. coagulans produces reproductive spores, which sets it apart from many other probiotics and has been shown to survive high levels of stomach acid, which means that it arrives to the small intestine as live bacteria so that it may provide optimal health benefits. Research has shown B. coagulans promotes digestive and gastrointestinal health, mineral absorption and healthy microflora balance. *
One mechanism behind the spectrum of health benefits from LactoSpore® is based on its natural byproducts of metabolism. These metabolites create a postbiotic benefit in the intestine. These postbiotic metabolites not only extend the benefits of the probiotic, they additionally provide an optimal energy source for healthy new epithelial cells, which line the intestine and support a healthy barrier. This benefit may offer a greater capacity to balance bacteria in the bowel. *
†LactoSpore® is a registered trademark of Sabinsa Corporation.

Prebiotic Blend (Jerusalem Artichoke, Apple Fiber, Chicory Root Fiber): 1,200 mg
The prebiotic blend in DNA Miracles Flora Melts contains three components. It also contains inulin, which is a soluble, fermentable dietary fiber. Inulin is widely known for its digestive system health benefits, such as: supporting the growth of bifidobacteria (good bacteria in the gastrointestinal tract), supporting a healthy microflora balance in the gastrointestinal tract, helping support healthy mineral absorption, and promoting overall health in the gut microbiome.1 Inulin is not digestible, meaning digestive enzymes cannot break it down after consumption as it moves through the large intestine providing nourishment for gut bacteria. Jerusalem artichoke, apple fiber and chicory root fiber are also good sources of fructooligosaccharides (FOS), a beneficial type of short-chain carbohydrate with prebiotic mechanisms that support gastrointestinal health.1 Inulin and FOS are both oligosaccharides (complex carbohydrates). Inulin is a long-chain oligosaccharide extract produced by chicory root, while FOS is an inulin extract or can result from a combination of sucrose and fructose.1*
Jerusalem artichoke
In addition to its inulin content, Jerusalem artichoke, or sunchoke, promotes healthy functioning of the digestive process and supports healthy metabolism. *

Apple fiber
Apples are one of the most widely consumed fruits with a wealth of scientifically substantiated health benefits. In addition to containing high amounts of polyphenols – plant micronutrients– apples contain fiber. Together, apple polyphenols and fiber may help regulate gut microbiota composition and activity.2,3 Apples contain pectin – the main soluble fiber in apples and helps promote good bacteria by increasing butyrate levels.2,3 Butyrate is a short-chain fatty acid produced by probiotics when fiber is consumed that has shown to benefit gut health. Pectin is also fermentable fiber.4*

Chicory Root Fiber
Inulin is a long-chain oligosaccharide derived from chicory root. Almost half of chicory root fiber comes from inulin, its main source of stored energy.5 Numerous studies have shown chicory root fiber as a prebiotic may be beneficial to health, including supporting healthy bacteria balance in the gut, promoting digestive health and regularity, calcium absorption, and more.6 Chicory root also contains polyphenols.5*
Sources:
Gastrointestinal Society. (n.d.). Intestinal Microbes & Prebiotics at a Glance. Retrieved from https://www.badgut.org/information-centre/a-z-digestive-topics/intestinal-microbes-prebiotics-at-a-glance/
Koutsos, A. et al. Apples and Cardiovascular Health—Is the Gut Microbiota a Core Consideration? Nutrients, 7(6): 3959–3998. 2015. doi: 3390/nu7063959
Jiang, T. Apple-Derived Pectin Modulates Gut Microbiota, Improves Gut Barrier Function, and Attenuates Metabolic Endotoxemia in Rats with Diet-Induced Obesity. Nutrients, 8(3): 126. 2016. doi: 3390/nu8030126
Geirnaert, A. et al. Butyrate-producing bacteria supplemented in vitro to Crohn's disease patient microbiota increased butyrate production and enhanced intestinal epithelial barrier integrity. Scientific Reports, 7: 11450. 2017
Semeco, A. (2016, June 8). The 19 Best Prebiotic Foods You Should Eat. Retrieved from https://www.healthline.com/nutrition/19-best-prebiotic-foods
Calorie Control Council. (2016, April 13). Chicory Root Fiber, Inulin, Oligofructose And Fructooligosaccharides (FOS). Retrieved from https://fiberfacts.org/chicory-root-fiber-inulin-oligofructose-fructooligosaccharides-fos/
Ingredients Label
(click image to expland)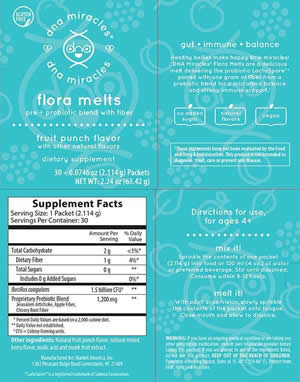 FAQs
What are prebiotics and probiotics? Why are they important for children?
Prebiotics nourish and support the growth and activity of healthy bacteria in the gastrointestinal tract – also known as the gut. They are different from probiotics, which are cultures of live bacteria that are widely believed to provide numerous benefits for human health.* Probiotics have shown to help maintain a healthy balance of microflora (bacteria) in the gut, promote important metabolic functions, and support a healthy immune system.* Postbiotics are the natural byproducts or metabolites of certain probiotic strains that support a healthy gut barrier by preferentially being used by intestinal cells for energy.*

Why should I be concerned about gut health for my child?
Many experts believe that the diversity of the bacteria lining the gut plays an important role in a child immune. There is also evidence that there is a link between gut health and overall health. *

What factors can affect gut health for children?
Food and diet: A diet high in processed foods, high in sugar and high in trans-fats can contribute to poor gastrointestinal health.1,2
Stress: Adapting to changes like starting daycare or kindergarten, new family dynamics, and busy schedules may cause children to feel overwhelmed.3


Is Lactospore a soil based organism (SBO)?
Yes. One of the benefits of the DNA Miracles Flora Melts is the use of spore-forming organisms often referred to as soil based organisms (SBO). Because children (and adults) often consume processed foods, SBO's support intestinal balance that may be challenged by our diets. *

Who should take DNA Miracles Flora Melts?
DNA Miracles Flora Melts are best suited for children ages 4 and older with adult supervision. For younger children, we recommend DNA Miracles Probiotics Extra, designed specifically for infants. *
Can adults take DNA Miracles Flora Melts?
Yes. We also recommended trying Isotonix Digestive Enzymes with Probiotics or Probiotics-10 for adults looking for digestive health supplements containing probiotics. *
How can my child consume DNA Miracles Flora Melts?
To mix it: Sprinkle the contents of one 2.114g packet into food (e.g. applesauce, yogurt, oatmeal, etc.), or into 120 ml (4 oz.) of water or preferred beverage. Stir until dissolved. Consume within 8 – 12 hours.
To melt it: With adult supervision, slowly sprinkle the contents of one packet onto tongue. Close mouth and allow to dissolve.
For optimal results, use daily.

Can my child take the entire packet at one time without mixing into anything?
Yes, over a period of time suitable to allow the product to completely dissolve. There is 2.114g of DNA Miracles Flora Melts powder in each serving. We recommend the contents are sprinkled slowly in small increments onto the tongue to allow the powder to dissolve entirely. If the contents of the pack are consumed too quickly the product may not dissolve fast enough.

What is the serving size of DNA Miracles Flora Melts?
Consume one 2.114g packet daily, or as directed by your healthcare professional.

Can my child take more than once daily?
Please consult with your healthcare provider to determine if your child should take more than on packet per day.

Can my child take this product along with other DNA Miracles products?
Yes. We developed the DNA Miracles line to provide complete metabolic, neurologic and digestive support for children. * In our modern society, we are exposed to various toxins and chemicals through the foods we eat, pollution in the air and other environmental factors. We cannot completely limit our exposure to all of these, but we can support good gut health through everyday diet and lifestyle. When diet and lifestyle fall short, supplementation is a viable option to promote the overall health of children and adults. *
Are there any contraindications or warnings for this product?
Children under four (4) years of age should not take this product as a melt due to choking hazards.
If you have an ongoing medical condition, or are taking any other prescription medications, consult your healthcare provider before taking this product.
If you are allergic to any of the ingredients listed, do not use this product.
What else can I do to support my child's digestion and immune health?
Add more fruit and vegetables to their diet as these are really good sources of soluble fiber. Other high fiber foods include beans, chickpeas and lentils, wholegrain breads, brown or wholegrain rice, nuts and seeds. Fermented foods, such as kefir, also provide gut-friendly benefits.
Sources:
Shubrook, N. (2017, December 11). How does diet affect gut health? BBC Good Food. Retrieve from https://www.bbcgoodfood.com/howto/guide/how-does-diet-affect-gut-health
Sonnenburg, E. (n.d.) 5 Ways to Boost Your Kid's Gut Health. Parents. Retrieved from
https://www.parents.com/health/hygiene/5-ways-to-boost-your-kids-gut-health/
Dowshen, P. (February 2015). Childhood Stress. KidsHealth. Retrieved from https://kidshealth.org/en/parents/stress.html
---
Find Similar Products by:
* These statements have not been evaluated by the Food and Drug Administration.
* This product is not intended to diagnose, treat, cure or prevent any disease.
Shop Internationally